The Classic Economy have to be upgraded, by giving folks the cash opportunity of the free use of a
one-click-motor-for-savings
for the personalized creation of digital objects - owndated webquantums - which are one or a set of parcels for each owner of personalized-webliving-savings.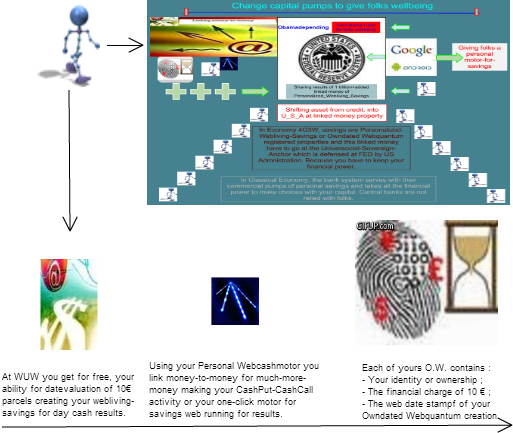 The thing is an upgrade into Economy 4G3W, adding the use of the datevaluation practice as another option with the other 3 economic practices, consumption-savings-investment. In fact, datevaluation is the financial act proposed as investment's substitute presented at the protocol or agreement Obamadepending / Googledepending.
Yes because it's time to download a financial-Android-App as for savings helper. Google have to supply the infrastructure for the Nexus-Financial-Day-Cash-Results at 12:00 New York local time, and US Admnistration have to supply the regulation for the kick-off.
Proposant le démarrage de l'Economie 4G3W
by
datevaluation practice
is licensed under a
Creative Commons Reconocimiento-NoComercial 3.0 Unported License
.
Creado a partir de la obra en
https://sites.google.com/site/economie4g3w/
.